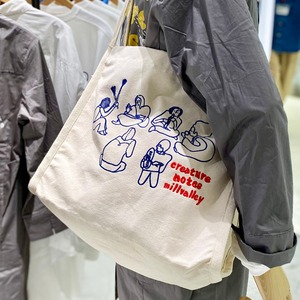 creature notes × millvalley freeman bag
香港のコンセプトブランド『Creature Notes』が「FREEMAN」をテーマにドローイングしたオリジナルアートを、millvalley定番アイテムresidence bagに刺繍しました。デザインを通して新しいヒッピーの姿勢を引き出すことをコンセプトに立ち上げたプロジェクト「フリーマン」(FREEMAN)。すべてが最も基本的なものに復元されることにより最も自然で快適な生活を見出すことができます。誰もが自由な魂を持つことはとても重要だと考えます。

material : cotton
size : h35 x w38 x d25 cm

Creature Notesは香港発のライフスタイル、アート、カルチャーを提案する日用雑貨店。背景にあるストーリーやサステナビリティを大切にし、主に日本やアメリカの優れた商品をセレクトしています。みなさまにとっての"日用品の補充ステーション"のような役割を果たすことが私たちの目指すところです。それに加え、香港の作り手による作品やグラフィックデザインを随時発信し、ローカルのサンプルルームの協力のもと"Made in Hong Kong"スピリッツを重視していきたいと考えています。

Creature Notes is a grocery store from Hong Kong to engage with a lifestyle, art and culture.Fine products selected from Japan and America, selection focuses on the story behind the products and the sustainability. Capable to serve as a replenishment daily goods station for everyone.Also launch own creations and graphic designs from time to time, cooperating with Hong Kong local sample room and emphasize the spirit of "made in Hong Kong", enhance and promote the development of Hong Kong manufacturing.
*Tax included.
*Additional shipping charges may apply, See detail..
About shipping fees
The shipping fee for this item varies by the shipping method.
TA-Q-BIN compact

Your delivery status can be checked online.

Shipping Fees are the same all over country inside Japan ¥570
*Japan domestic shipping fees for purchases over ¥10,000 will be free.